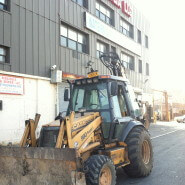 If you are located in NYC, ie., Brooklyn, Queens, Manhattan or the Bronx and have been issued a 3 day notice you are in the right place. Alex Figliolia Water & Sewer, has helped to resolve thousands of 3 day notices over the years, whether it is our company replacing the pipe or proving to DEP that the water service is not leaking. Our service is available 24 hours per day and can handle any size emergency, there is no job too big or too small for Alex Figliolia Water & Sewer.
3 Day Notices are issued by The Department of Environmental Protection to repair a defect in water service. Please be aware that the repair work must be performed by licensed and insured master plumber. Our company attends to all 3 day notices immediately and takes them very serious, feel free to give us a call for a free estimate today.
Give one of our 3 Day Notice experts a call at 718-852-8700.